Martin Valentine (Former Staff – Head of Art, Evans Housemaster & Honorary OS)
The OS Club is sad to announce the passing of Martin Valentine who died on 23rd January. Martin was a former Head of Art and Housemaster of Evans House. He was a larger than life character who will be sadly missed.
---
Michael Norman Shaw, Lord Shaw of Northstead (S 34-38) 1920-2021
The OS Club is saddened to share the news that Michael Shaw, The Lord Shaw of Northstead, recently passed away at the age of 100. Lord Shaw was a former National Liberal and British Conservative Party politician who served as an MP from 1960 to 1964 (as a National Liberal) and from 1966 to 1992 for the Conservatives.
Born in Leeds, Lord Shaw joined Sedgwick House in 1934 before leaving in the summer of 1938. He then joined the Indian Army on the outbreak of war, but contracted tuberculosis on the voyage out. Discharged from the Army, he joined his family firm as a chartered accountant. He married Joan Mowat in 1951. Standing first as a Conservative at the general election in 1955, Lord Shaw fought the safe Labour seat of Dewsbury, losing by over 7,000 votes. At the general election in October 1959, he stood as a 'Liberal and Conservative' and contested the Labour-held marginal constituency of Brighouse and Spenborough. He lost by only 47 votes to the sitting MP Lewis John Edwards, who died the following month. At the resulting by-election in March 1960, Shaw won the seat for the National Liberals and Conservatives with a majority of 666 votes over Labour's Colin Jackson.
Lord Shaw returned to Parliament at the 1966 general election, when he was elected for the safe Conservative constituency of Scarborough and Whitby. He held that seat until it was abolished for the February 1974 general election, when he was re-elected for the new Scarborough constituency. He continued to represent Scarborough until he retired at the 1992 general election, making a total of 30 years as an MP. He also served as a Member of the European Parliament (MEP) from 1974 until 1979, when MEPs were not directly elected, but were chosen by the House of Commons and House of Lords as delegates.
In the 1982 Birthday Honours, Lord Shaw received a Knighthood, having the accolade conferred by The Queen on 25 November 1982. He was created a life peer on 30 September 1994 with the title Baron Shaw of Northstead, of Liversedge in the County of West Yorkshire and retired from the House of Lords on 31 March 2015. He was also the first Sedbergh School Foundation 1525 Society President from 2002-2005.
More information to follow.
---
John Calderwood Crompton (SH 40-43) 1925-2021
Sadly the OS Club has been informed that John Crompton passed away on 7th January 2021, aged 95, after a short illness. He would regularly talk about his days at Sedbergh and his happy memories.
---
Brandon Charles Glover (Former Staff)
The OS Club has received the sad news that former Classics teacher Brandon Glover passed away in December 2020.
---
John "Michael" Watherston (S 46-50) 1932-2020
The OS Club is sad to announce the passing of Michael Watherston (S 46-50), who died on 6th December at the age of 88.
---
Jane Elizabeth Collison (née Riddell) – Widow of Victor Collison (Former Bursar)
The OS Club is saddened to share the news that Jane Collison, wife of former Bursar Victor Collison, passed away on 6th December 2020 at the age of 89. The Collison Prize was a prize awarded at the Prep School and given by the Collisons in the days of Cressbrook House, when it was the Junior Boys' House. Jane was a long-time supporter of the School.
---
Dr. Michael Trevor Haslam (E 47-52) 1934-2020
Sadly the OS Club has been informed that Michael Haslam passed away on 2nd November 2020 at the age of 86. Please see below an obituary from Edward Vickerman (W 47-52):
Dr Michael Trevor Haslam, 1934-2020 died unexpectedly on 2 November.
Born in 1934, Michael had the misfortune to lose his father in his early years. His mother's remarriage brought him not only a step-father but a step-sister and step-brother.
Michael entered Evans House in 1947, in due course becoming a School Prefect and captain of House teams in football and cricket. When he entered St John's College Cambridge, a keen sportsman, he changed to lacrosse, in time captaining the university Eagles team in their match against Oxford. He was also a member of the Cambridge University Judo Team. In his later years he kept his sporting interest playing croquet.
First meeting in their student days at Cambridge, Shirley and Michael married in 1959. They have a son and two daughters, six grandchildren and as yet one great-grandson.
Michael took biological sciences A-levels and followed these at Cambridge and St Bartholomew's Hospital where he qualified as a doctor. He served his two years of National Service in the Medical Corps, rising to the rank of Acting Major.
Returning to civilian life, he specialized in Psychiatry. It was a career with many achievements; Master of Arts and a doctorate from the University of Cambridge for his thesis on psychiatric illness in adolescence and a double Fellowship from the Royal College of Physicians and Surgeons at Glasgow and the Royal College of Psychiatrists. He received a Diploma of Medical Jurisprudence and a Liveryman-ship of the Society of Apothecaries. He has been Chairman of the Society of Clinical Psychiatrists and one time Chairman of the Clinical Tutors committee of the Royal College of Psychiatrists.
In his retirement he and Shirley obtained the degree of Master of Arts in Theology from the University of Leeds.
---
Thomas "Tom" McClung (S 47-51) 1933-2020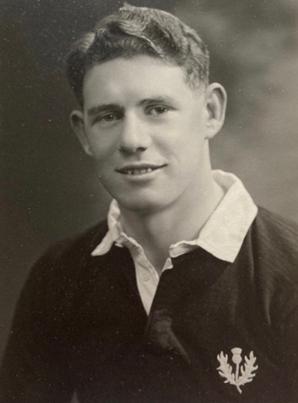 The OS Club has received the sad news that former Scotland international rugby player and potato merchant, Tom McClung (S 47-51), passed away in October 2020 at the age of 87.
Please see the following obituary from The Scotsman:
Tom McClung was one of the leading Scottish international rugby players of the late 1950s. He was very much a son of Edinburgh, born in the capital and educated at Edinburgh Academy up until the age of 11.
During the Second World War, when a Luftwaffe aircraft dropped a bomb close to the family home in Corstorphine, the McClungs were evacuated to Girvan, where he attended Girvan High School.
From Edinburgh Academy, he went on to Sedbergh, the public school in the wilds of Cumbria, then to Cambridge, to Emanuel College, to read agriculture. Tom won his Blue in the 1954 Varsity match, then returned to Edinburgh, to work in the family potato merchants business, and to play rugby for Edinburgh Academical and Edinburgh District.
He helped Accies win the Unofficial Club Championship in 1955-56, their first such success since 1930; a great season in which the only Scottish side to beat them was Glasgow Academicals.
He went on to captain the club in season 1959-60, while his years in the Edinburgh team in the Inter-District Championship were also successful – five wins in six seasons.
Along the way Tom won a total of nine Scotland caps, six in the centre, three at stand-off. His career coincided with a great period for Scotland's oldest rugby club, and while their XV included some genuine Scotland greats, such as international captains Douglas Elliot and Brian Neil, plus a British Lions scrum half in Stan Coughtrie, it was widely acknowledged that Tom was the back division general who made the entire team tick.
Top rugby players back then were strictly amateur. Tom's day job was in the family potato merchants' business, which he ran along with Gilbert. Away from work and rugby, Tom was a keen golfer – at the time of his death he was the oldest member of Turnberry, which was hardly surprising given its proximity to the Girvan tattie fields he knew so well.
He was also a member of the Honourable Company of Edinburgh Golfers, at Muirfield and the Scottish section of the British Rugby club of Paris.In his younger days Tom was a keen cricketer, playing, naturally, for the Accies, while he was also a passionate bridge player.
Tom is survived by Marion, his wife of 58 years, sons Fraser and Gilbert, and daughter Celia and his eight grandchildren.
Click here to read the obituary in full.
---
William Bryce "Bill" Jamieson (L 59-63) 1945-2020
The OS Club is sad to announce the passing of Bill Jamieson (L 59-63), who passed away on 14th November 2020 at the age of 75. Please see the following obituary from The Times, which was published on 16th November 2020:
Bill Jamieson's 12 years as executive editor of The Scotsman encompassed far more than publishing a newspaper; he was part of far wider political debate in Scotland and beyond. And while he was an "old-school" journalist, at home with ink, hot metal and newsprint, he also saw the future lay online, responding in 2012 by starting Scot-Buzz, a website dedicated to supporting Scottish business that he ran for several years.
Although Jamieson's views could be idiosyncratic, his wisdom was rarely in doubt. He was far more interested in producing papers than their content. He enjoyed debate for the sake of it and could turn on a sixpence if it provided the chance to explore an unfashionable opinion.
William Bryce Jamieson was born in 1945 in the Irvine Valley in Ayrshire. "Once it was a string of thriving, happy-go-lucky little towns made famous by lace manufacture," he wrote. He was the son of John Jamieson, a lawyer, and his wife Anne (née Leckie), who died when Bill was young; he had two siblings, Iain, a lawyer for the Scottish Office who was responsible for the wording of the 1998 Scotland Act with its opening article "There shall be a Scottish Parliament", and Susan, who both survive.
They were raised in Newmilns, next to the local newspaper's presses, "which inspired me to journalism", he said. However, his return visits in adulthood were short. "It is like listening to Gaelic music, evocatively pleasing for five minutes and terminally depressing after ten," he said. Emerging from Sedbergh School with atrocious handwriting he taught himself copperplate.
He read economics at the University of Manchester, but his academic performance was suboptimal because he enjoyed a full social life and was busy attending CND marches and taking part in anti-war demonstrations. While at Manchester he met Elaine Muller, a Cornish librarian, and they were married in 1971. She survives him with their son, Alastair, deputy news editor at The Independent.
Jamieson joined The Merthyr Express in south Wales as a sub-editor, worked as a business sub on The Western Mail in Cardiff and in the early 1970s moved to London as a City reporter with Thomson Regional Newspapers. He was at The Daily Express for several years before in 1986 being part of Eddie Shah's union-busting revolution on the launch of Today, Britain's first all-colour newspaper. In 1995 he became economics editor of The Sunday Telegraph, where he broke the story of the collapse of Barings Bank.
His final job, in 2000, was at The Scotsman, where his role encompassed everything from public outreach and columns about business to seeing off the business pages each night. "When he first came back, his right-wing perspective on Scottish politics and the economy did not always go down well in the generally left-leaning media," said Magnus Linklater, the Times columnist. "But he took the criticism in good heart and made friends right across the spectrum, while never compromising in his view that Scotland needed a reality check when it came to attitudes towards business and the wealth-creating part of the economy."
Jamieson, who was convivial to a fault and wore bright red socks when in the City, received various journalism honours, including a lifetime achievement award at the Scottish Press Awards in 2012. His Scotsman columns continued and in August he wrote about those who are "missing in action" from the job figures during the crisis, expressing concern for the one million people with no paid employment yet who are not registered as unemployed.
Bill Jamieson, journalist, was born on June 9, 1945. He died from spinal cancer on November 14, 2020, aged 75. Click here to read the obituary in full.
---
Sheila Rogers (Former Staff)
Sadly the OS Club has been informed that former member of staff Sheila Rogers passed away recently. She was the wife of OS John Rogers and taught biology at Sedbergh for many years until her retirement in 1985.
---
John Arthur Barton Townley (H 56-60) 1942-2020
The OS Club is saddened to share the news that John Townley (H 56-60) passed away on 22nd October 2020 at the age of 78.
---
Peter John Berry (L 49-53) 1935-2020
The OS Club is sad to announce the passing of Peter John Berry (L 49-53), who died peacefully on 13th October at the age of 84.
---
John Routledge Veale (E 54-59) 1941-2019
The OS Club has received the sad news that John Veale (E 54-59) passed away on 2nd February 2019 at the age of 78.
---
Logie Bruce-Lockhart (SH 35-40) 1921-2020
The OS Club is sad to announce the passing of Logie Bruce-Lockhart (SH 35-40), who passed away on 7th September 2020 at the age of 98. Logie was in School House just before WW2 and while his father, John Bruce-Lockhart (known as Rufus), was Headmaster (1937-1954). Logie was a writer, a journalist, a Scottish international rugby union footballer and for most of his teaching career, Headmaster of Gresham's School in Norfolk from 1955-1982.
There will be a private funeral at St. Andrew's, Holt, followed by interment in the churchyard, which is where Logie's wife, Jo, and daughter Kirsty are buried. A celebration of his life will be arranged a later date. Anyone wishing to write to the Bruce-Lockhart family can do so by post to:
69 New Road, Blakeney, Holt NR25 7PA. Please click here for an obituary. More information will be available soon.
---
DEATHS
* Names in gold indicate an obituary link.
First Name(s)
Surname
House
at Sedbergh
Date
Martin
Valentine
Honorary OS & Former Staff (Head of Art & Evans Housemaster)
January 2021
Michael Norman
Shaw (Lord Shaw of Northstead)
Sedgwick
1934-1938
January 2021
John Calderwood
Crompton
School House
1940-1943
January 2021
Brandon Charles
Glover
Former Staff
December 2020
John Michael
Watherston
Sedgwick
1946-1950
December 2020
Jane Elizabeth
Collison (née Riddell)
Widow of Victor Collison (Former Bursar)
December 2020
(Dr.) Michael Trevor
Haslam
Evans
1934-2020
November 2020
William Bryce "Bill"
Jamieson
Lupton
1959-1963
November 2020
Thomas "Tom"
McClung
Sedgwick
1947-1951
October 2020
Sheila
Rogers
Former Staff
Retired in 1985
October 2020
John Arthur Barton
Townley
Hart
1956-1960
October 2020
Peter John
Berry
Lupton
1949-1953
October 2020
Logie
Bruce-Lockhart
School House
1935-1940
September 2020
Patrick Joseph Kinloch "Jo" Campbell
Penney
School House
1944-1949
September 2020
Michael John
Melling
School House
1961-1966
August 2020
Ronald Gordon MacRobert
Barr
Sedgwick
1947-1952
August 2020
Ian Jackson Herbert
Richardson
Hart
1936-1940
July 2020
(Dr.) Dan Gordon
Miller
School House
1936-1941
July 2020
(Dr.) James Timothy Hessel "Tim"
Pick
Evans
1941-1945
July 2020
(Col.) Duncan Stuart Archibald
Boyd
School House
1945-1949
June 2020
Philip Francis
Lister
Powell
1941-1945
June 2020
(The Rev) Robin G
Laird
Former Staff & Honorary OS
1993-1998
June 2020
(Maj) Thomas "Edward"
Scott
Powell
1943-1947
May 2020
Robert
Venters
School House
1946-1950
May 2020
Kenneth Douglas MacRobert
Barr
Sedgwick
1953-1957
April 2020
John
Duckworth
Evans
1945-1950
April 2020
Ian Everard
Pilkington
Winder
1951-1954
April 2020
Richard Alleyn
Haslam
Powell
1943-1948
April 2020
Philip Hillary
Hunter
Lupton
1964-1969
April 2020
Norman Gainsford
Wright
Hart
1941-1945
April 2020
Charles Anthony "Tony"
Shaw
Winder
1951-1956
April 2020
Carl "Victor"
Wild
Powell
1937-1941
April 2020
Dr James William Alexander "Bill"
Moxon
Evans
1943-1948
April 2020
Gavin David
Anderson
Hart
1955-1959
2020
John Plummer
Lister
Powell
1938-1942
March 2020
David Renshaw
Martin
Sedgwick
1946-1950
March 2020
(Maj.) Francis James
Goddard (MBE)
Winder
1947-1952
March 2020
David Robert Buchanan
Russell
Powell
1949-1954
March 2020
Peter Frederick
Armstrong
Day Pupil
1943-1948
2020
David
Horsley
Sedgwick
1939-1943
March 2020
John Perran
Curry
Sedgwick
1942-1945
March 2020
John le Gallienne
Gilchrist
Evans
1954-1958
February 2020
Michael
Sanger-Davies
Sedgwick
1950-1954
February 2020
Peter J
Attenborough
Former Headmaster
1975-1981
February 2020
Anthony Peter Thomas
Higham
Evans
1954-1958
January 2020
(Cdr) David Stuart
White
Lupton
1950-1954
January 2020
Peter Kidson
Poskitt
Hart
1945-1950
2019
Robert John
Tweedale
School House
1941-1945
December 2019
David Brook
Sutcliffe
Winder
1948-1953
November 2019
Alan William
Parkes
Sedgwick
1974-1977
November 2019
(Maj.) Andrew Archibald Steele "Archie"
Scott
Sedgwick
1932-1937
November 2019
David Robert
Greenwood
Hart
1958-1963
November 2019
Walter Douglas
Bertram
Evans
1945-1948
October 2019
Richard Charles
Sawtell (MBE DL)
Powell
1943-1948
October 2019
Eric Aldie Neilson
Mercer
Winder
1940-1943
October 2019
Lionel Victor
Walsh
School House
1944-1947
October 2019
(Prof.) John Barr
Cavanagh
School House
1935-1938
October 2019
Anthony Noble
Frankland (CB, CBE, DFC)
Hart
1936-1941
October 2019
Dieter
Pevsner
Sedgwick
1946-1949
October 2019
Gerald Douglas Henderson
Smith
Hart
1943-1947
September 2019
(Prof.) David William
Brocklesby
Sedgwick
1942-1946
September 2019
Clive James Forgie
Turner
Evans
1950-1954
September 2019
Michael
Longhurst
Winder
1958-1963
September 2019
David
Alban
Former Lupton Housemaster (67-76) and Member of Staff
1952-1976 (Staff)
September 2019
Michael Hutton
Vignoles
Lupton
1943-1947
August 2019
Anthony "Graeme" De Bracey
Marrs (MBE)
Honorary OS
1939-2019 (Honorary OS)
August 2019
Robert Christopher
Robinson
Hart
1944-1948
July 2019
Victor Derek "Vic"
Oldfield
Lupton
1939-1943
July 2019
Alastair John
Turnbull
Sedgwick
1955-1960
July 2019
Jonathon James Charlton "Jon"
Hardey
Sedgwick
1963-1968
July 2019
John Basil
Crossley
Lupton
1963-1968
July 2019
(Dr) John George
Coxon
Winder
1934-1938
July 2019
Benjamin William
Bennett
Hart
1942-1944
June 2019
(Dr) Geoffrey William Syme "Geoff"
Burgess
Hart
1956-1960
May 2019
Sheila
Donald
Widow of David Donald (OS) -
Former Headmaster of Cressbrook School (49-76)
1930-1934
(David Donald)
May 2019
Frederick Wilson "Freddie"
Hoult
School House
1951-1955
May 2019
Richard Anthony
Huck
Sedgwick
1973-1978
April 2019
Roger Martin Browne
Hollinshead
Powell
1959-1964
April 2019
David Hunter
O'Brien
Hart
1945-1951
April 2019
Thomas Edward "Ted"
Richardson
Evans
1941-1945
April 2019
David Arthur
Gilliat
Powell
1948-1953
March 2019
John Hampden
Hyatt
Sedgwick
1941-1946
March 2019
Ian Douglas
Sangwin
Hart
1954-1958
February 2019
John Routledge
Veale
Evans
1954-1959
February 2019
Michael Theodore
Broadbent
School House
1967-1972
February 2019
Donald Barrett
Mackay
Sedgwick
1948-1953
February 2019
Douglas
Eynon
Sedgwick
1949-1953
February 2019
Peter Edward
Rickitt
Evans
1960-1964
January 2019
Malcolm Brian Taylor
Bromley
Lupton
1950-1954
January 2019
Robert James "Bob"
Sykes
Evans
1947-1950
December 2018
George William "Bill"
Frank
Evans
1944-1948
December 2018
(Dr) Walter Graham
Mathews
School House
1943-1947
December 2018
(The Rev) Peter J D
Allen
Former Teacher, Chaplain, and Second Master
1987-1993
December 2018
Richard Hugh
Thomas
Former Physics Master
1967-2002
December 2018
Peter David
Hymas
Winder
1946-1950
November 2018
George Marshall
Fish (OBE)
School House
1942-1946
November 2018
Peter Myles
Hutchinson
Hart
1951-1955
November 2018
Edward Stuart "Zeke"
Smith
Evans
1946-1950
November 2018
James Robert
Bruce-Lockhart
School House
1954-1959
November 2018
David Goodman
Blanche
Powell
1947-1951
October 2018
(The Rev) David Roy
Holmes
Lupton
1947-1952
September 2018
Charles Graeme
Watherston
Sedgwick
1949-1953
September 2018
(The Rev) James Henry "Jim"
Smith
School House
1946-1950
September 2018
John Blackburn
Talbot
Winder
1940-1943
September 2018
William Fawcett "Billy"
Banks
Hart
1942-1946
September 2018
Neil Melvin
Mackay
Lupton
1940-1945
September 2018
Graham Hurndall
Smith
Hart
1949-1952
August 2018
Samuel John Willoughby
Barker
Evans
1993-2000
August 2018
William Lewis Robertson
Scott
Evans
1949-1953
August 2018
(Sir) Henry Arthur Hugh
Cortazzi
Sedgwick
1936-1941
August 2018
Michael Ian
Grierson
Lupton
1957-1963
July 2018
Peter Donald
McQueen
Evans
1951-1956
July 2018
James Alexander
Robertson
Sedgwick
1948-1952
July 2018
John Gilfillan Luscombe
Robinson
Hart
1947-1951
July 2018
Andrew Snowden
Harton
Evans
1963-1969
June 2018
Richard John
Rossiter
Winder
1948-1953
May 2018
Stephen Herbert Kay
Butcher
Winder
1942-1947
May 2018
Timothy Wace "Tim"
Roberts
Lupton
1951-1956
April 2018
David Francis
Barker
Winder
1936-1940
April 2018
Peter Morley
Yorke
Powell
1952-1957
April 2018
(Prof) Robin Stuart
Sharp
Winder
1950-1954
April 2018
Stuart Robert
Paton
Hart
1977-1982
March 2018
(Prof) Robert Cairns Brown
Aitken
Winder
1947-1951
March 2018
Christopher Kenneth
Mylne
Sedgwick
1940-1945
March 2018
Geoffrey Richard
Hague
Sedgwick
1939-1944
March 2018
Dudley Charles Dowsland
Moore
Lupton
1955-1959
March 2018
(Sir) John Archibald
Ford
School House
1935-1939
February 2018
John Reed
Hindmarsh
Powell
1958-1963
February 2018
John Douglas
Hiley
Lupton
1953-1958
January 2018
Hugh Frederick
Lockhart-Ball
Evans
1961-1966
December 2017
John François de Werdt
Duvoisin
Evans
1949-1953
January 2018
James Edward
Sugden (OBE)
Hart
1960-1964
December 2017
Graham
Shepherd
Sedgwick
1942-1946
December 2017
Anthony Martin
Russell
Hart
1947-1952
December 2017
Colin Patrick
Crabbie
Lupton
1960-65
December 2017
Victor H Brooke
Dowse
Former Schoolmaster and Lupton Housemaster
1963-2000
November 2017
Peter Graham Carleton
Taylor
Evans
1959-1964
November 2017
Anthony Norburn
Craven
Sedgwick
1937-1941
November 2017
Michael Lindop
Bottomley
Winder
1938-1943
November 2017
David Graeme Salvesen
Macmillan
Winder
1949-1953
October 2017
Kenneth John
McCracken
Sedgwick
1952-1957
October 2017
Stephen Allinson
Jay
Hart
1940-1943
October 2017
Michael Royden
Richards
Evans
1944-1948
October 2017
(Prof) Henry Kenneth
White
Winder
1938-1941
October 2017
George B
Newby
Winder
1956-1959
October 2017
Nigel Anthony
Hurst
Lupton
1974-1978
October 2017
Ian Harold M
Robinson
Powell
1938-1941
September 2017
Patrick Edmund
Jolly
Lupton
1978-1983
September 2017
Leslie "Les"
Fletcher
Former School Lab Technician
1965-1996
August 2017
Robert Edward
Hodges
School House
1979-1986
August 2017
Alastair John
Breckenridge
Sedgwick
1955-1960
July 2017
Richard Woosnam Ward "Dickie"
Dawe
Former Winder House Tutor
1954-1963
July 2017
David McNab
Bertram
Evans
1947-1951
July 2017
Christopher Graham "Chris"
Wells
Evans
1960-1965
June 2017
(Prof) John Seymour
Conway
School House
1943-1948
June 2017
Hugh Highley
Sugden
School House
1962-1966
June 2017
William Henry Raymond
Meageen
School House
1950-1955
May 2017
Philip Angus Newham
Robotham
Hart
1979-1984
May 2017
Jeremy Frank Collinge
Fisher
School House
1944-1949
May 2017
N Peter C P
Meadows
Former Winder Housemaster
1959-1990
April 2017
(Dr) Frederic Salkeld
Plumpton
Powell
1946-1951
March 2017
David Michael
Behrend
Sedgwick
1941-1945
March 2017
Richard "Rick" David
Abbott
Lupton
1968-1973
March 2017
Peter Rodney
Hyde
Hart
1957-1962
March 2017
(Dr) Roger James
Mawby
Sedgwick
1952-1957
February 2017
Richard Drummond
Hardwick
Powell
1955-1960
February 2017
(The Rt Hon The Lord) David Charles
Waddington (PC)
Winder
1944-1947
February 2017
Garth Roger
Nicholas
Hart
1944-1949
February 2017
Peter Walter
Phillips
Sedgwick
1947-1952
February 2017
Noel Wilfrid
Berry
School House
1955-1960
February 2017
William Edward
Greenhalgh
Powell
1945-1949
February 2017
(Sir) Christopher
Bland
Lupton
1951-1956
February 2017
Peter Michael
Poole (CBE, TD, JP, DL)
Lupton
1943-1946
February 2017
Colin James
Sherwood
Powell
1949-1952
February 2017
John Alexander
Gossip
School House
1944-1949
December 2016
Andrew Philip
Bradshaw
Winder
1968-1973
December 2016
Florian Louis
DeVito
Sedgwick
2008-2010
November 2016
Michael James
Wilson
Powell
1957-1962
November 2016
Paul James
Page
Lupton
1978-1983
November 2016
Peter Lowson
Addison
School House
1945-1949
October 2016
Timothy Charles
Mileson
Sedgwick
1996-2003
October 2016
(Dr) Samuel Kribb
Young
Hart
1941-1945
October 2016
John Richard
Thompson
Hart
1949-1954
October 2016
Ewan Douglas David
Bell
Winder
1951-1956
October 2016
Michael Robin
Fowler
Hart
1949-1952
July 2016
Robert Paul
Lester (MBE)
Winder
1930-1936
July 2016
(Dr) Timothy Martin
Venters
School House
1958-1963
June 2016
Neil Pollock
Magee
Lupton
1957-1961
April 2016
(Sir) John Seton
Cassels
Lupton
1942-1946
March 2016
---