Sound Sedbergh schooling underpins Harry Brook's (W 13-17) Hundred rise
Old Winderian Harry Brook was the third-highest run-scorer in the group stage of the recent Vitality Blast series, hitting 485 runs for Yorkshire with two fifties and a top-score of 91.
The 22-year-old plundered 62 from just 31 balls in a narrow defeat to Welsh Fire two weeks ago.
Then on 31st July, the Yorkshire star lead the Northern Superchargers to their first Hundred win at the expense of Oval Invincibles, with an unbeaten 47 off just 30 balls to send the 10,859 crowd at Emerald Headingley home happy.
Superchargers captain Stokes said of Brook: "He just takes the game on from ball one. He is not scared of any situation, he is not frightened of any bowler and he just sticks to what works for him.
"That is exactly what we try and create in the England team so I don't think it will be too long before we see him wearing the Three Lions.
Brook, who reached fifty from 21 balls and hit five sixes and three fours in his innings, said: "I felt like I was in good nick out there, it was just a shame I couldn't get us over the line. I've said a few times I want to be a match winner, and in the end I wasn't. I batted nicely, but it wasn't enough.
"I was seven off seven balls and tried to kick on. I felt like I knew what they were trying to bowl all the way through – cutters into pitch.
"That opened up the off-side if they got it slightly wrong on line. Then I tried to beat the deep square men when they went straight.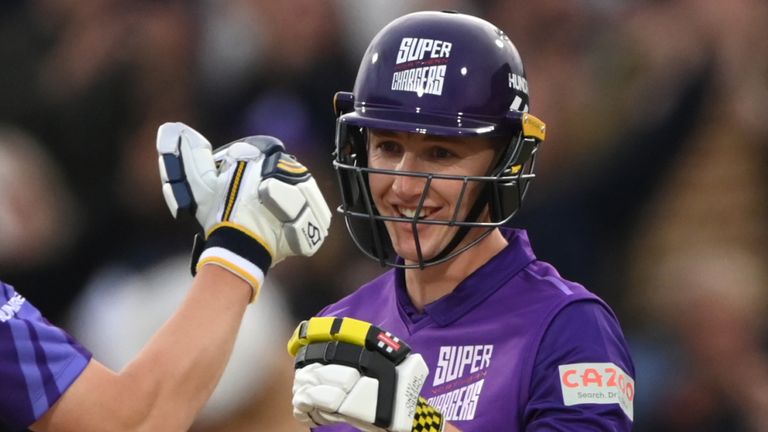 "It's always an amazing crowd [at Headingley] when it's packed. I can't wait for some more."
Sky Sports commentator and former England batsman Kevin Pietersen hailed Brook's knock and believes The Hundred is going to produce more players for international cricket.
On Brook, Pietersen said: "What an innings that was! Rob Key said to me 'watch this lad play; and my goodness! He is 360 and plays beautifully though the off-side. Those are shots!
"A lot of county cricketers don't like me saying it but if you condense a tournament you get the depth.
"When you get the depth players become better, the cricket becomes better and it builds a stronger national team. This tournament will build a stronger national team.
Click here to read the original article from Sky Sports.
---
It is fair to suppose that most of those in the crowd at Headingley on 1st August were not greatly bothered where Harry Brook was educated. Their knowledge probably extended little further than that he is one of seven Yorkshire players in the Leeds-based Northern Superchargers squad. Such a confection of local links is quite enough to command the allegiance of home supporters, many of whom would also have packed the Western Terrace for the Vitality Blast Roses match had not Covid-19 restrictions been in place.Yet Brook will be one of the first to tell you that his education, in its broadest sense, mattered. He will tell you proper coaching matters. He might even disclose that having just a couple of trusted coaches from whom he will take feedback has been vital to his development. And before long you will be back at a school in the Howgill Fells and the man who, one suspects, will always know Harry Brook's game better than anyone else.
It is a world far removed from the sweaty ferment of a late July evening at Headingley yet it has been integral to the development of a cricketer whose thunderous drives have put him among the leading scorers in the ECB's darling new competition. Martin Speight played for Sussex and Durham during a 16-year career in the first-class game and he is now in charge of cricket at Sedbergh School. He reckons he works an 80-hour week, although he tells you that in passing; if Speight possesses a trumpet it is a long time since he blew it. His day begins at 6.20am when the first cricket coaching takes place in one of the school's two sports halls. The timing of such sessions is not dictated by Sedbergh's staff; it is a response to the demands of the pupils, many of whom are intent on making the very most of their cricket and some of whom are on sports scholarships.
And Harry Brook is not an outlier in all this; rather he is only the most well-known Old Sedberghian playing first-class cricket. The group of which he is a member includes Jordan Clark (Surrey), Jamie Harrison (Durham), George Hill and Matthew Revis (both Yorkshire). The allrounder Tom Aspinwall has just finished his lower-sixth year at Sedbergh but has already played for Lancashire's second team, and was named in the County Select squad to face India last month. You will hear more of him.
"On the first day of the autumn term, immediately after the first assembly, most of them will be asking for sessions," said Speight. "I use the older of the two halls and we have four nets in there. We do two hours before school, six days a week. The fifth and sixth form come in early. They can come in as often as they want, it's purely down to their motivation, but the culture is already present in the school.
The elite players can also have one-to-one sessions with me and so Tom Aspinwall's sessions get put down as part of his personal timetable. Most of the boys' boarding houses have gyms and the school also has two gyms, so they will also book out sessions with the strength and conditioning coach."
It is important to see that this degree of commitment on the part of coach and players is not symptomatic of obsession. Even though some pupils at Sedbergh will be playing county age-group cricket and plainly have an eye on professional careers, they will also be expected to do their work, contribute to the life of their house and may well play other sports as well in the autumn and winter terms. The cultivation of such a balance should serve them well, particularly, perhaps, if they land contracts like those of Brook and Hill at Yorkshire.
"I spent the whole of one lockdown with Harry rebooting his technique. It's a check that everything is in place. They know me better than anyone else because of the hours we've spent together," says Martin Speight.
The coaching of elite male cricketers is only a part of Speight's remit. He talks warmly of the ability of girls such as Harriet Robson, who is in the Northern Diamonds Academy and for whom a training session at the Riverside involves a long round trip from her home beyond Alnwick. Speight is also in charge of arranging a fixture list for the school's seven teams and for making sure weekday matches do not clash with public examinations or overload young people who already have plenty in their lives.In a recent 50-over match against Manchester Grammar School, Aspinwall played as a specialist batter. The game was lost by 20 or so runs, partly because two or three of the top order got to fifty without going on to play the match-winning innings.
But losing such games is part of any young cricketer's education. The coach hopes the team learned something and, in any case, when it comes to national competitions, Sedbergh is rarely far from the trophies. But the best coaches can only show their charges how to make the best of their ability and even the most gifted cricketer will struggle and acquire bad habits if asked to play on poor pitches. It is in this respect that Speight reckons Sedbergh's pupils are especially lucky.
"Our groundsman, Martin South, has been here a long time and he knows what's needed," he said. "The pitches the first-class cricketers get to play on when we host county matches are the same as we get to play on in school. The pupils are immensely fortunate because they grow up playing on surfaces where they don't have to generate pace on the ball, they just have to time it. They have the facilities that allow them to flourish.
Sedbergh is also concerned to ensure that such extraordinary advantages are not available only to rich kids. The school takes its charitable status seriously by offering scholarships and means-tested bursaries to as many children as possible, something which makes Speight's job in helping to select the recipients of such awards particularly vital. And the school's record in producing first-class cricketers makes it all the more important to know what he requires from, say, batters who come for an exploratory net.
"I'm looking for technical skill, coachability and an openness to the sort of development we offer," he said. "I'm less concerned with physical strength. Harry [Brook] was quite a short, stocky lad. Once they're here and playing sport every day they will get stronger. If they're serious about their cricket they will get dragged along by the people who are already here. If you're little you have to be able to play the short ball well and that's the same if you're going to be a professional cricketer. At 12 and 13, young cricketers can all play on the off side but if they can play off their pads on the front foot or hips on the on side that will be a big thing for me. I'll tell them it's a coaching session in which we have to get to know each other because over the next five years we're going to be spending thousands of hours together. They have to buy into the way I think about the game and I've got to get a feeling as to whether they would benefit from coming here."
And when those sessions begin Sedbergh's cricketers will find that Speight is old-school in the best sense. As long as players are not practising bad habits he believes that improved performance frequently reflects the amount of practice a player has put in. Such an approach is consonant with one theme of Matthew Syed's influential book Bounce.
"The more balls you face the more balls you hit, the quicker you'll pick up cues as to line and length," he said. "The best players pick up length quicker than anyone else. My aim is to take them through a programme so that when they leave here at 18 they are technically very sound and they can then develop their power hitting. If something goes wrong – and it almost always does – they can always fall back on their technique. They will get worked out and they'll have to learn to deal with failure but at least they'll have their technique as a base upon which they rebuild their batting. And both George and Harry have come back to me in those difficult times. People who don't have the technical foundation will struggle."
Those last comments are maybe the most revealing about Sedbergh's cricket. Many old boys recall their school coaches with affection but have moved on into the tougher environment of the professional game where county coaches dominate their professional lives. Both Hill and Brook talk warmly about Speight's influence on their lives – he spent time with them in their early weeks at Sedbergh when both were homesick – but they then point out that they still send him videos of their batting and return to him when something needs fixing. Paul Grayson, Yorkshire's batting coach, is kept fully informed and welcomes the help."
County coaches don't have the time that I might have had to work with them and technically the players slip, which is why they come back to me," said Speight. "I spent the whole of one lockdown with Harry rebooting his technique. It's a check that everything is in place. They know me better than anyone else because of the hours we've spent together."When George and Harry went into the first-class game, they never at any stage stopped contacting me and I have to say that's nice. I'm good friends with both of them now. All I want is for them to enjoy their cricket as much as I enjoyed my cricket… and they earn a lot more than we used to."
Click here to see the original article from ESPNcricinfo.
---
Exciting times ahead for Yorkshire youngster Matthew Revis (W 18-20)
MATTHEW REVIS could be set for an exciting couple of months if his performances in the ongoing Royal London Cup are anything to go by.
The all-rounder, 19, has been one of Yorkshire's standout performers during the first half of their 50-over campaign, catching the eye with bat and ball.
Fellow young guns Harry Duke, George Hill and Will Luxton have grabbed headlines over the last week or so through excellent batting performances.
And Revis has also shown his capabilities as a powerful middle order batsman and a fast improving seamer, highlighted best in defeat against Somerset at Taunton on Sunday.
He led a recovery from 89-5 to 158-5 in the 20 overs per side contest, posting 58 not out. In defence, he claimed a wicket and two catches.
On List A debut against Surrey at Scarborough just less than a fortnight ago, he top-scored with 43.
A few more key contributions, hopefully starting against Warwickshire at York's Clifton Park tomorrow (11am), and coach Andrew Gale could have a selection headache ahead of the latter stages of the County Championship and Vitality Blast.
"I'm not sure what the availability of the England lads is going to be, so it's all about putting performances in," said Revis.
"But I'll just take one game at a time and see where that takes me."
Revis forms part of an exciting crop of youngsters coming through at Yorkshire, ones who have been handed the current spotlight with 10 players away in the Hundred.
"I've played with Dukey, Hilly and also Leechy (Dom Leech) and Wharts (James Wharton), who aren't here, pretty much since I was 11," he went on.
"In a couple of years, we'll really be knocking on the door."
Click here to see the original article from The York Press.
---
Yorkshire stun Leicestershire as George Hill knocks 90 off 81
George Hill finished with an excellent unbeaten 90 off 81 balls to helped secure Yorkshire a stunning Royal London Cup win chasing 328 against Leicestershire at Grace Road. George shared 172 with fellow young star Harry Duke inside 33 overs for the third wicket.
The win was secured by seven wickets with 13 balls remaining as the Vikings survived earlier hundreds by Marcus Harris and Lewis Hill in the Foxes commanding 328-7 in excellent batting conditions.
Wicketkeeper Harry Duke, busy and inventive, provided the key performance to write his name into the record books behind a certain Sachin Tendulkar, who was 19 years and 100 days when he scored 107 against Lancashire in 1992.
Only twice before have Yorkshire chased more than this.
The Vikings started the chase with a rocky star but George Hill settled to provide former England Under19s team-mate Duke with valuable support.
They took the score to 188-2 after 30 overs, with 140 still needed.
Duke reverse scooped Wright for four to move to 89 and the score to 224-2 in the 35th over.
Hill then reached his maiden fifty in, like Duke, his second game off 50 balls, getting there with a straight six off the leg-spin of Rehan Ahmed. He had been dropped on 12.
As the target got closer and Leicester heads dropped, runs came at a greater rate.
Hill hit a second six and had moved into the eighties by the time Yorkshire reached 303-2 in the 44th over, with only 25 more needed.
Duke was bowled pulling at Ed Barnes, leaving the score at 319-3 in the 46th over, but Jonny Tattersall hit the winning runs in the 48th. Hill finished with eight fours and two sixes.
Asked how he felt to be in Tendulkar's company, Duke beamed: "That's a bit surreal.
"I'm a long way off him, I'd say, but it's a special moment for me and my family.
Click here to see the full article.