Selva Ramasamy (S 81-88) Appointed Queen's Counsel
A belated congratulations to Selva Ramasamy (S 81-88) who last year was sworn in before the Lord Chancellor and the Lord Chief Justice as a newly appointed member of the Queen's Counsel (QC). Selva has a long established and impressive practice in the field of corporate and financial crime. He is a specialist in cases involving corporates and professionals under investigation and charged in criminal, regulatory and disciplinary proceedings. He was called to the Bar in 1992 and was appointed a Recorder of the Crown Court (a part-time circuit judge) in 2009. He is also a member of the Bar Standards Board disciplinary prosecuting panel.
Prior to being appointed QC, he was contacted for advice by a recent OS, Andrew Watson (H 03-11), via the OS network, OS Connect, as he began his own career at the Bar. Selva was generous enough to offer Andrew some mentoring along the way, introducing him to some of London's leading solicitors (one was so impressed she immediately employed him as a paralegal on a major case). Andrew and Selva have since met for drinks several times and Andrew was introduced over dinner to another OS, His Hon. Judge Michael Grieve, QC (W 64-68). Selva and Michael have worked together in cases over the years and become good friends. Andrew subsequently spent a week sitting as an observer in a murder Michael was trying.
Selva occasionally returns to Sedbergh from time to time, making the obligatory pilgrimage up Winder, and expresses his pride in seeing the School continue to thrive. The OS Club congratulates Selva on this terrific achievement.
---
Archie Davies (P 14-19) Wins Welsh Amateur Championship
A big congratulations to rising golf star Archie Davies (P 14-19) who recently claimed his first senior title by taking home the title at the Welsh Men's Amateur Championship held at the Tenby Golf Club, Wales. The tournament, comprising of 32 amateur players, lasted four days with five knock-out rounds. The final took place on August 2nd and included this stunning putt at the half-way mark on the 18th hole. Archie sealed the victory with another glorious putt and spoke afterwards upon receiving the champion's trophy. The success comes after Archie was crowned Welsh Amateur Golfer of the Year for 2018 and was also the Boy's Order of Merit Champion. As a 'new' Old Sedberghian, Archie soon will be off to commence his studies at East Tennessee State University, Johnson City, having secured a prestigious golf scholarship there.
More recently, Archie also participated in the prestigious R&A Boys Amateur Championship, Saunton, Devon, held from 13th-18th August. The Championship saw 252 competitors from 33 countries contesting for the title. Archie finished with a very encouraging final 16 placing. Click here to watch a short interview with him at the Championship (starting at 02:40).
---
Eight Sedberghians Feature in National Rifle Association Schools' Meeting
Congratulations to the eight current and former Sedberghians who featured heavily during the National Rifle Association Schools' Meeting at Bisley, Surrey, this summer. The Old Sedberghians who featured in the England National Match (photographed above) included Captain John Warburton (L 75-80), Adjutant Peter Bromley (L 77-82), Charlie Cowen (H 12-17), Max Pybus (P 14-19), and Katherine Fleck (L 10-16), alongside current pupils Sarah Rorison (R), David Fox (H), and Henry Nichols (H), all of whom played a supporting role in assisting with the scoreboard and team management with John and Peter. Sedbergh finished a highly respectable 3rd in the highly coveted Ashburton Shield, 1st place in the Reserve, and 2nd in the Cadet Pair matches on Ashburton Day, as well as winning a number of other prizes during the week.
Also contested was the Public School Veterans' Match, in which the OS A Team comprising of Katherine Fleck (L 10-16), Charlie Cowen (H 12-17), Will Ross (S 13-18), Peter Bromley (L 77-82) and Mark Wrigley (SH 71-76) came 13th with a score of 245.22. Meanwhile, the B Team of Harriet Bramwell (C 13-16), Lewis Smith (H 12-17), George Bentley (S 11-16), Toby Lehmann (SH 72-77) and George Cordle (L 85-90) scored 231.13 and also came 13th in the 2nd team competition.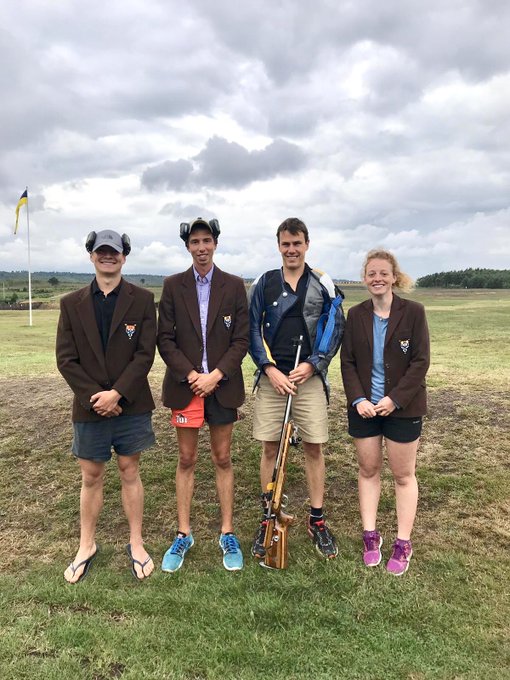 Pictured above: Former Master in Charge of Shooting, David Nuthall, with the support of three of his former Shooting Captains: Katherine Fleck (L 10-16), Charlie Cowen (H 12-17) and Will Ross (S 13-18), all proudly wearing their Brown Blazers during the Final of HM The Queen's Prize.
---
Henry Ackroyd (S 14-19) Wins Bronze in Scottish Championships
Congratulations to new alumni Henry Ackroyd (S 14-19) who continues to inspire by taking home the bronze medal in a 100m Final of the FPSGathletics, with a personal best time of 12.53. The Men's 100m Ambulant Men Final took place on August 17th in Grangemouth, Scotland, and was part of the Scottish Athletics' National Senior and Under 17 Championships. Click here to see the replay of the race.
Whilst at Sedbergh earlier this year, Henry received his Athletics Colours and continues to strive on the Paralympic Pathway Programme, targeting the Paris 2024 Paralympics. He is also ranked in the top 10 in the country in three track events – 100m, 200m and 400m. Well done, Henry!
---
Behind The Scenes: England U18's South Africa Tour with Oliver Melville (S)
Current pupil Oliver Melville (S) was part of the U18s England squad that defeated France 29-25 in the U18 International Series in South Africa. Oli was featured in a behind-the-scenes video of the 9-day tour, posted by England Rugby, which can be viewed here.
Following a tremendous season with SSFC, Oli, also of the Sale Sharks Academy, started at fullback for England on the tour which marks the start of the U18 international season. In their final of three fixtures, England were narrowly defeated 33-27 by hosts South Africa Schools despite holding a 19-13 lead at the break. Click here for a short highlight reel. England coach Jim Mallinder reflected: "We're disappointed to lose but I'm very proud of the performance today and how far this team have come in such a short space of time. We knew South Africa were older than us and physically bigger and have been together for a longer period so we knew it would be a tough test. However, we came here with the intention of playing expansive rugby and moving them around the field and we certainly did that. We scored some cracking tries, our defence was outstanding and it was just their power that allowed them to cross, so overall I'm happy."
"I now want to see the players crack on with their season, go back to their schools and academies and look to develop and improve and we'll hopefully see them back later in the season for our next U18 fixtures." Click here for a full recap from England Rugby.
England U18 International Series Results:
August 9 2019 – Paul Roos Gymnasium, Stellenbosch, Argentina def. England 29-19
August 13 2019 – Paarl Gymnasium, Paarl, England def. France 29-25
August 17 2019 – Hugenote High, Wellington, SA Schools def. England 33-27
Oli was also selected as 12th man for Lancashire CCC following Jimmy Anderson's injury in the recent match against Durham at Sedbergh School in July.
---
Charlie Gowling (SH 11-16) Signs With London Scottish
21-year-old scrum half Charlie Gowling (SH 11-16) has signed terms with London Scottish for the 2019/20 season after impressing on trial during preseason. Charlie arrives with an impressive pedigree having left school and subsequently signing a two year deal with French Top 14 side Stade Francais.
The former Sedberghian hails from the same school as current winger Rob Stevenson (SH 09-14) and former London Scots Al Mike Biggar (S 63-68). Charlie, who has Scottish heritage, was also selected for the Scotland Under 20s in 2018 and played in the Junior World Cup, held in France, in the same year.
Charlie was looking forward to the opportunity of playing in England again after three seasons in France.
"I am really excited to be joining the Club and I am ready for a new challenge and I think London Scottish is the best place to help me back into English/Scottish rugby."
Head Coach Graham Steadman was pleased to have Charlie on board for the 2019/20 Greene King IPA Championship season.
"Charlie has impressed the coaching and support staff since he came in on trial. He is a quick scrum half and has a very good work rate. We are looking forward to working with him this season and helping to grow his game."
Gowling becomes the third scrum half to join the Scottish squad for the new season joining Josh Barton and Ed Hoadley
Click here for the full article from London Scottish.
---
Abbie Scott (R 09-11) Captains England to Emphatic Victory over USA in Rugby Super Series
Abbie Scott (R 09-11) was once again given the honour of captaining England's Red Roses during their opening 38-5 win over the USA in the 2019 Rugby Super Series in San Diego. The competition was the third edition of the Women's Rugby Super Series, which featured the five best-ranked international sides in the world, and the first since 2016.
Abbie, who plays for Harlequins Ladies, also featured in the subsequent nail-biting 19-17 and 20-18 wins over defending champions Canada and France respectively, before falling short to New Zealand 28-13 in their final game on July 14th. Finishing just one point behind champions New Zealand, England finished runners-up for the third time in a row.
Click here to watch an interview with Abbie before the series commenced.
---
Harry Brook (W 13-17) Scores Second Career Century
Harry Brook (W 13-17) scored his first century of the season during a dominant Yorkshire performance against Somerset on July 23-26 at Emerald Headingley in the Specsavers County Championship. Yorkshire won by an innings and 73 runs thanks to a spectacular display from Brook who reached the milestone off 127 balls and included 11 fours.
Brook, 20-years-old, was playing only his second game back in Yorkshire's team having been dropped for four games following a slow start to the summer at the top of their order in the Championship. He indicated that he preferred to bat in the middle order and came in at number six. Brook was eventually the last man out, bowled by Tom Abell for 101 after 223 minutes at the crease.
Yorkshire currently sit on 6th place in the First Division. Click here for more information.
---
George Hill (W 14-19) Captains England U19 to Victory
Having recently secured a contract with Yorkshire CCC, all-rounder George scored an impressive knock of 41 not out against the U19 Indian team and guided hosts England to their first win of the U19 Tri-Nation tournament in Cheltenham.
The much-needed win for England came after losing their first three games of the tournament against India and Bangladesh. George also captained a later match against Bangladesh which the visitors won with 9 balls remaining.
---
Emma Bryant (L 07-12) Called Up To National Korfball Squad
Congratulations to Emma Bryant (L 07-12) (pictured front-right) was selected in the England Korfball squad to play in the World Championships in Durban, South Africa. For those unfamiliar, Korfball is a ball sport with similarities to netball and basketball and is played by two teams of eight players with four female and four male players per team.
The IKF World Korfball Championship 2019 took place from 1st-10th August with 20 qualifying teams. England was pooled against Belgium, Hong Kong China, and Slovakia and, with two wins and a loss, finished second in their group behind eventual finalists Belgium. A tight 22-18 loss to Suriname in the Quarterfinal Knock-Out stage was followed by three successive wins over Japan, Hungary and Catalonia, leaving England on a highly respectable 9th place finish.
Well done, Emma!
---
Becky Glen (R 07-12) Makes ICC Women's Global Development Squad
Well done to Becky Glen (R 07-12) who was selected for the ICC Women's Global Development Squad, which comprises 13 players from 7 countries. The multi-nation squad played six Twenty20 matches on a tour of England from 29th July-August 2nd. The International Cricket Council announced the third WGDS squad as part of its continued efforts to provide exposure to players from outside the leading countries and improve the standard of the women's game.
After making her debut for Scotland in July last year, Becky has been a regular feature on the Scottish National Team in the Women's Twenty20 Internationals.
---
Ben Davidson (W 17-19) Helps Scotland Qualify For U19 Cricket World Cup
Congratulations to Ben Davidson (W 17-19) who recently helped Scotland qualify for the 2020 U19 Cricket World Cup to be held in South Africa in January and February next year. Scotland finished unbeaten in their Europe Division 1 regional qualifying tournament, which was held in the Netherlands from 26th July-1st August.Ben was in action as Scotland secured their place in the World Cup with five impressive victories over Denmark (by 142 runs), Ireland (by 47 runs), France (by 253 runs), Jersey (by 122 runs), and the Netherlands (by 3 wickets). All matches were 50 overs, as in the World Cup, with just one final qualification spot on offer to join the other fifteen qualified teams in the competition next year.Afterwards the team members sang to their victory in the locker room. Well done, Ben!